Beckett Asset Management's Defensive Mixed Asset Portfolio celebrated its 5 year anniversary at the end of December 2016.  The Portfolio was created for investors who are more cautiously minded and want to generate attractive long-term returns with reduced levels of volatility and risk.
The model has been successful in achieving two of its primary objectives: generating a steady return that is greater than that available from cash deposit investments and beating its benchmark.
Portfolio Managers, Samantha Owen and Craig Brown, use OEIC and Unit Trust funds as tools to construct a well-diversified investment portfolio that is designed to be robust through economic and market cycles, and result in a smoothed investment journey.
As the chart demonstrates, the model has been able to achieve returns that have beaten the benchmark with a lower level of volatility.  Furthermore, it has achieved a significant reduction in volatility compared to investing in the broad equity market; the total return of the FTSE All Share index is used to represent this in the chart.
"The Portfolio has been very popular with our investors because it's given them an investment strategy that limits any falls in the short term whilst delivering an agreeable level of return over the longer term," said Samantha Owen.  "We're constantly monitoring the macroeconomic environment and will make changes over time to ensure we have a portfolio which is able to cope with whatever the markets have in store for 2017 and beyond."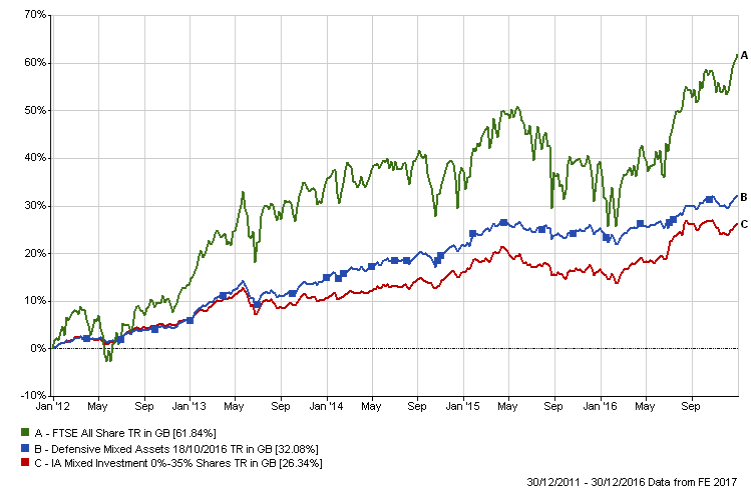 All returns shown are net of underlying fund fees but do not include Beckett fees nor platform costs. Please speak to your advisor for information on the net performance of your individual portfolio.
Past performance is not an indicator of future returns.
The value of your investment could reduce to nil as well as increase in value.